Glenn Edwin John Lambert, 1957-2003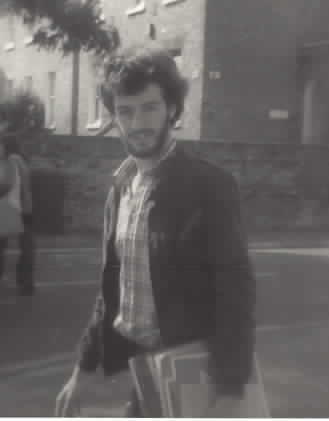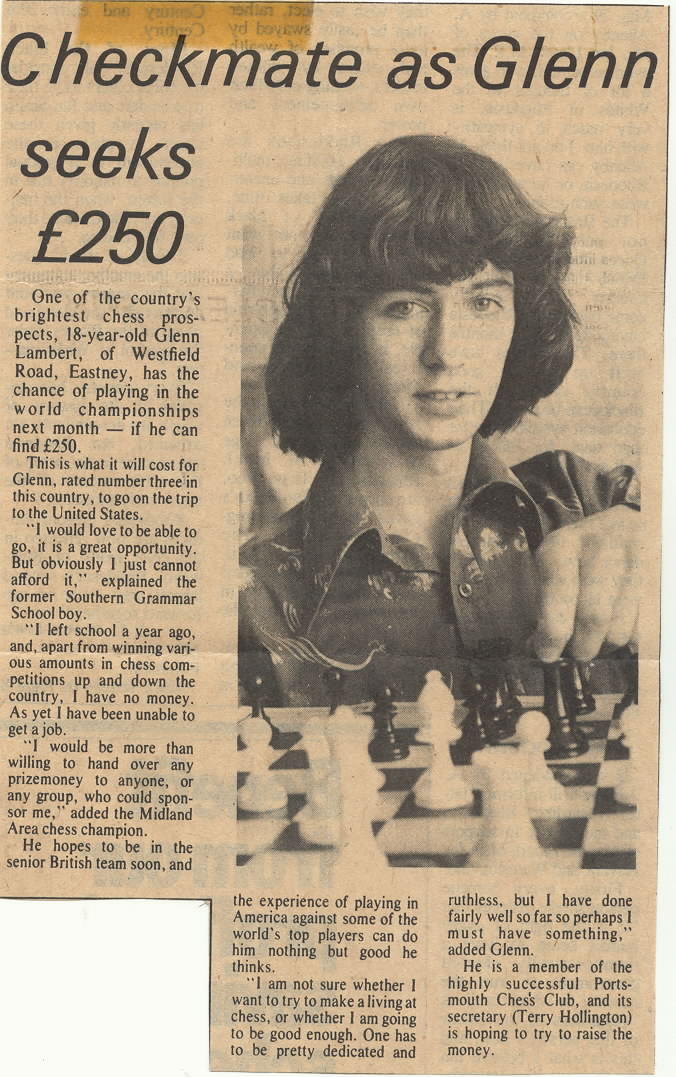 Glenn Lambert grew up in Portsmouth. He took up chess when 11. He had a calm positional style. When he started playing blindfold chess he soon progressed to playing 4-board simuls.
He attended a 6th form college but he wasn't one of the Oxbridge bunch. He didn't complete A-levels, preferring to concentrate on chess. His rise followed that of Miles. For a while in the mid-70s he was one of the UK's most promising juniors. Then Nigel Short emerged. Here's a brief outline of his career
1974 - Clacton BCF: 6/11 in the U-21s. Played in the London Invitation. 2nd board in the Glorney Cup 4.5/5.
1975 - Hastings Challengers: 6/11 (won by Bellin). In October he had a BCF rating of 193. He left school.
1976 - Hastings Challengers: 6/11 (began with 5/6, then lost to Rumens).
Portsmouth BCF: 6.5/11. 7th, level with Miles (won by Mestel). "I don't know that much about Lambert but he seems good", said Miles.
When rated the 3rd best UK U-18 he played in the US (the New York Open, I think). The press cutting includes these quotes

"I have no money. As yet I have been unable to get a job"
"I am not sure whether I want to make a living at chess or whether I am going to be good enough."

1977 - Hastings Challengers: 6/11. Peter Lee (at the same school) was "recognised as the leading British hope for the 1977 junior chess championships of the world" at this stage.

BCF: 5.5/11, including this "attractive win" in Rd 6. C.Shephard was black
1. d4 Nf6 2. c4 c5 3. d5 e5 4. Nc3 d6 5. e4 g6 6. Be2 Bg7 7. Nf3 Nbd7 8. O-O O-O 9. Be3 Qe7 10. Qd2 Ng4 11. Bg5 f6 12. Bh4 Nh6 13. Ng5 Nb8 14. Rad1 Nf7 15. Ne6 Bxe6 16. dxe6 Qxe6 17. Nd5 Na6 18. Bxf6 Bxf6 19. Bg4 Bg5 20. Bxe6 Bxd2 21. Rxd2 Kg7 22. Nc3 Rad8 23. Rfd1 Ng5 24. Bd5 Nc7 25. Bxb7 Rb8 26. Bc6 Nge6 27. Rxd6 Rxb2 28. Rd7+ Rf7 29. Rxf7+ Kxf7 30. Rd7+ Kf6 31. h4 Rc2 32. Nd5+ Nxd5 33. Bxd5
Grade: 2420

The Lord John Cup: 2.5/9 (won by Hort). The picture of the contestants on p.553 of the BCM V.97 leaves out "eyes-closed Lambert". Lambert drew with Mestel, and beat Torre, but his most famous game was against Kotov.

In this position Kotov (White) sealed. Lambert offered a draw, but when Kotov told him that he intended to continue 42.Re6+ Kd7 43.Rxe8 Kxe8 44.Re6+ followed by Rxe4 and Rxg4, Lambert resigned. In fact, 43 ...g3 wins.

Grade: 2315

1980 - Grade: 2295. National Bank of Dubai Open
Miscellaneous
The bookstall incident - during a tournament Lambert was seem at the bookstall browsing through a book of openings. His game had reach the middle-game and he was interested in various earlier possibilities. He was reported, then spoken to by Eley. For a while after that, people would shout "Warn the bookstall, Lambert's here" when he arrived at the tournament hall
The Lambert program - a chess program was named after him
He started hearing voices in 1980 and was later diagnosed with Huntingdon's Chorea.
---
Tim Love (thanks to Tony Williams for the Miles photo)